New TomTom Go Android App Really Needs Improvements
312hooligan
Registered Users
Posts: 84


Legendary Explorer
Today, I blindly updated the TomTom Go app without checking out this Discussion forum or even looking at screenshots. Boy, was it a foolish mistake on my part.
As an avid motorcyclist, I use both my TomTom Rider 550 and my cellular phone on my motorcycle. The overarching reason why I choose TomTom over Garmin Zumo, BMW Navigator (by Garmin) and Google Maps is the ease of getting information from a quick glance without having to strain my eyes. TomTom nailed it with the color scheme, contrast, and road name flags without requiring the driver to stare unnecessarily longer at the screen. But this new version 2.2.3? It's like a step backwards. Below is a list of usability deficiencies I observed with this new version, of which I sincerely hope TomTom developers will consider reintroducing/restoring prior functionalities.
Major road color/contrast: This was a key selling point. When I need a view of the overall city/town, TomTom marks major roadways (other than highways/expressways) with two shades of dark brown color, as well as increasing their thickness. This was consistent between TomTom SatNav devices and the previous app. Now? Major streets are just another narrow skinny line that doesn't differentiate from other streets. Just like Google Maps and Garmin, which I consider as inferior. [See first 3 attached pictures for comparison.]
Map zoom: Prior version, the zoom buttons were readily available. Now, I have to tap the screen to then reveal zoom buttons. Seriously, who while driving or riding should waste more time and effort just to zoom in/out? For our safety, less distractions and quicker access are better. Not to mention when wearing motorcycle gloves, extra screen taps are harder (either not registered, or registered as double tap). Even in a car, making sure my thumb is over the right button can be difficult.
Quick Access: On TomTom SatNav devices, there is a button on the top left corner that will bring up common toggles (volume slider, audio on/off, navigation on/off, night mode on/off, and messaging on/off (not available on 4xx)). On the previous Android Go app, this list of toggles were intuitively integrated into the bottom of the menu after clicking on the menu button. [See 4th attached picture.] Where is the quick toggle functionality now? The audio button on the map only covers 1 of the quick toggles, but not the app volume or night mode off.
App Audio Level: In the previous app, I can adjust the volume of the app independently of the overall volume of the media audio from the cellular phone.
I'm sure as I start using the new app more on the road, I will find more gripes as I try to use previously available functionalities no longer available. I'll be sure to report them. But if the above 4 items are not addressed soon in the next minor release update of the software, then I will have no choice but to stop paying for and using the TomTom Go app, as there is now no key differentiators putting TomTom software as more usable than Google Maps or Garmin SatNav devices. Think about this. I actually have the BMW Navigator, and I still chose TomTom because I value the above features over the available telemetry data and multicontroller of my BMW. Now, I might as well go free with Google Maps, and if this current software is the same direction my TomTom Rider 550 will eventually go to, then I may as well revert to my Navigator.
[If you're wondering why I use both my SatNav and my cellular phone app on my motorcycle: I do a lot of long distance back country riding, and as such I like to have one in birds eye view to see upcoming curves, and the other in north up view zoomed out so I have a sense of orientation of where I am in my journey.]
Last two screenshots courtesy of Tech is Tech on YouTube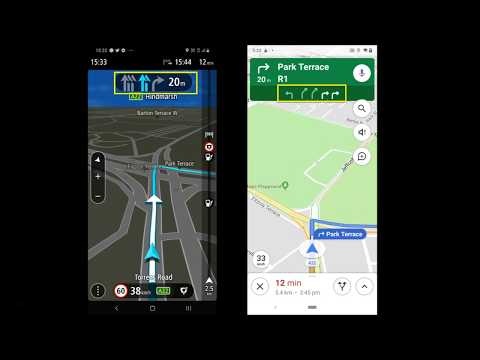 since I don't have the older app to take screenshots from anymore.
Comments
This discussion has been closed.