FAQ - How can I report map errors?
MikkoK
Posts: 23,905
Retired Community Managers and Staff
Roads change rapidly and although we work hard on keeping up with the changes and release map updates 4 times a year, some errors may creep in. We have a couple of ways in which customers can provide us information about map errors they've found so that we can fix them quickly.
Most of our navigation devices and apps support a
MapShare
feature with which you can submit corrections directly to our map team and download map corrections to your device separately from the quarterly map updates. For more elaborate reporting we have the online
MapShare Reporter
. Both of these are explained in
this FAQ
and there are more FAQs
here
, but below is some more information to help you report map corrections and understand the process.
To quickly get started, please see the video below:
[video]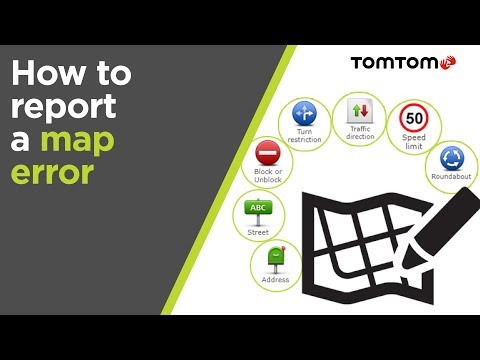 Table of contents for the video
Logging in: 0" 30'
Speed cameras: 1" 00'
Report status': 2" 10'
Missing street: 2" 20'
Speed limit: 3" 05'
[h2]Reporting with MapShare Reporter[/h2]
MapShare Reporter and how to use it is quite extensively described in
this FAQ
. There are a couple of new features which are explained below.
[h3]Geo-tagged photos for more information[/h3]
Some time ago a possibility was added to MapShare Reporter to add geo-tagged photos to your reports for more information. We've
already announced
this here on the forum but below is some further information about this.
Why is this so important?
Geo-tagged images are a handy way of providing us with a nice piece of evidence to help us verify and close out reports quickly.
Click the spoiler for more information.
Geo-tagged photos are especially helpful when reporting the following changes:
Street name - A geo-tagged photo of the street sign helps to confirm the change
Speed limit - A geo-tagged photo of the speed limit sign helps to confirm the change
(Un)blocked road - A geo-tagged photo showing the blockage helps to confirm the change (for temporary closures see below)
What is a geo-tag, and why is this important for TomTom?
A geo-tag will provide information on the location where an image was taken. This is enough proof for us to verify that e.g. a certain road sign is actually at the location you reported to us, which makes it a lot easier to process map reports efficiently.
How can I collect geo-tagged images?
This feature is usually automatically enabled on your smartphone, however you can find this option in your phone's settings. GPS has to be turned on in order to geo-tagged images.
How do I upload images on the MapShare Reporter website?
Simply locate and enter your map report on the map. At the bottom you will then find the option to upload up to two images (in JPEG format and 10MB max).
[h3]Reporting temporary road closures[/h3]
Temporary road closures are included in TomTom Traffic on supported devices. These can also be reported with MapShare Reporter and the reports go straight to the Traffic team.
Temporary closures can be reported as follows:
Select the type Block or unblock
Zoom in and put the pin on the location of the closure
Select Temporary and a time restriction for the closure you're reporting
Select the types of vehicles this closure applies to
Select the time frame applicable for the closure. By selecting Specify you can give more precise time information regarding the closure you're reporting.
If you know of an official source for information about the closure, please add a link to the Comments field.
[h3]Reporting errors on the MyDrive map[/h3]
If you find an error on the MyDrive map at
mydrive.tomtom.com
you can also report it with MapShare Reporter. There's also a link to it in the down-right corner of MyDrive.
Since MyDrive uses the new
NDS maps
, not yet available on our navigation devices, it's good to mention in the
Comments
field of your report that it pertains to MyDrive.
[h3]Reporting errors on truck maps[/h3]
If you're reporting an error in a truck map, please mention it in the Comments field to speed up the handling process. For reporting changes in truck map specific features, e.g. height/weight restriction, please use the Other category.
Of course you can also report map changes directly with your device (see below).
[h3]Map versions[/h3]
As mentioned above, we release map updates for our navigation devices and apps four times a year (see
here
for more information). The online platforms such as MapShare Reporter and MyDrive follow a different schedule and you may sometimes see some discrepancies in the map data between the different products.
[h3]MapShare Reporter status'[/h3]
When you're logged in in MapShare Reporter you'll see on the top left, above the report categories, a link
My previous reports
. By clicking that you'll see you recent reports and their status'. The status' and their explanations are as follows:
Pending
We've received your Map Report and we are currently evaluating it. We'll let you know soon if we can use it.
Accepted
Your Map Report has been evaluated and accepted! We have updated our map database ready for the next map release.
Fixed
The next map release will contain your Map Report change. The change will appear soon in online maps or in a map update for your device. Thank you for you help with keeping the maps up-to-date - we look forward to your next Map Report!
Not accepted
Your Map Report has been evaluated but we have decided not to use your suggested change. Thank you for your feedback - we look forward to your next Map Report!
---
[h3]Tips[/h3]
To ensure you're report gets handled quickly, please make sure to select the applicable category. Reports in the Other category are handled manually and will take considerably longer to process, in case it actually belonged to one of the specific categories.
Also if you're not sure whether your issue is a map issue, please post here or check with Customer Service. E.g. navigation/routing issues are mostly a combination between map and the routing algorithm and require closer look at the specific issue. Traffic issues, other than temporary closures (see above), are best reported to Customer Service.
Report ID
By clicking a previous report (see above) you can see the ID number of your report. In case you have questions about it you can send it to Customer Service. Some Employees and Staff members can also check it for you here on the forum.
Speed Cameras and POIs
Fixed Speed Cameras and POIs are shown in the map of the MapShare Reporter when you have selected the relevant category and zoomed in enough. This way you can check whether we actually have a particular Speed Camera or POI in our database and report it if it's missing/incorrect.
[h2]Reporting on devices and apps[/h2]
On-device MapShare corrections are supported on all portable navigation devices, but there are some differences in which corrections can be done and how they are handled. The main differences are
whether corrections take immediately effect on the device
or need to be confirmed first,
which corrections are possible on the device
and settings for
trust level
for MapShare Correction downloaded to your device.
Click the spoiler for more information.
[h3]Devices connecting to TomTom HOME[/h3]
Corrections take effect on device as described in this FAQ.
You can choose between 4 trust levels for the MapShare corrections installed to your device: Confirmed by TomTom, reported by trusted users, reported by many and reported by some.
Corrections that can be made on these devices are described in the above FAQ.
Making MapShare Corrections is not supported on in-built devices connecting to TomTom HOME.
[h3]Devices connecting to MyDrive Connect released between 2010-2012[/h3]
As above, apart from the trust levels. On these devices there are only
3 trust levels
:
Confirmed by TomTom
,
reported by many
and
reported by some
.
[h3]GO 5x00/6x00, 5x0/620, 400, GO/Start/VIA 4x/5x/6x[/h3]
Map corrections made on these devices are confirmed by TomTom and provided as MapShare Correction updates via MyDrive Connect.
4 types of map corrections are currently possible on these devices:
[h3]GO Mobile[/h3]
Map corrections are currently supported on the GO Mobile for Android and work the same way as for the post 2013 devices apart from the possibility to install MapShare corrections. Support for this feature is also
being worked on for the GO Mobile for iPhone
.
[h2]Downloadable daily map changes[/h2]
Downloadable MapShare patches are currently supported on all portable navigation device updated with MyDrive Connect and TomTom HOME, except the one's for which we
no longer provide map updates
. For more information, please see
here
[support FAQ - Daily map changes].
[h3]What's included in the updates?[/h3]
The downloadable MapShare patches currently include changes in speed limits and direction of traffic flow/road direction. All other types of changes are included in the quarterly map updates.
Please note, that the MapShare patches are only offered for the map currently active on your device. To download patches for other maps you've installed on your device, switch the active map on your device and reconnect it to your computer to check for updates.
This discussion has been closed.